Piping Systems Comparison: Hospitality
Corzan® Piping Systems come out on top versus other systems for hospitality applications. Corzan Piping Systems are cost-effective, easy to install and offer businesses a high-capacity system with corrosion resistance. With fittings in sizes and diameters needed, Corzan pipe and fittings provide a track record of more than 50 years of consistent performance. Corzan's simplified solvent-weld system requires no torches for installation, and mechanical joining allows for modular construction and/or quick repairs.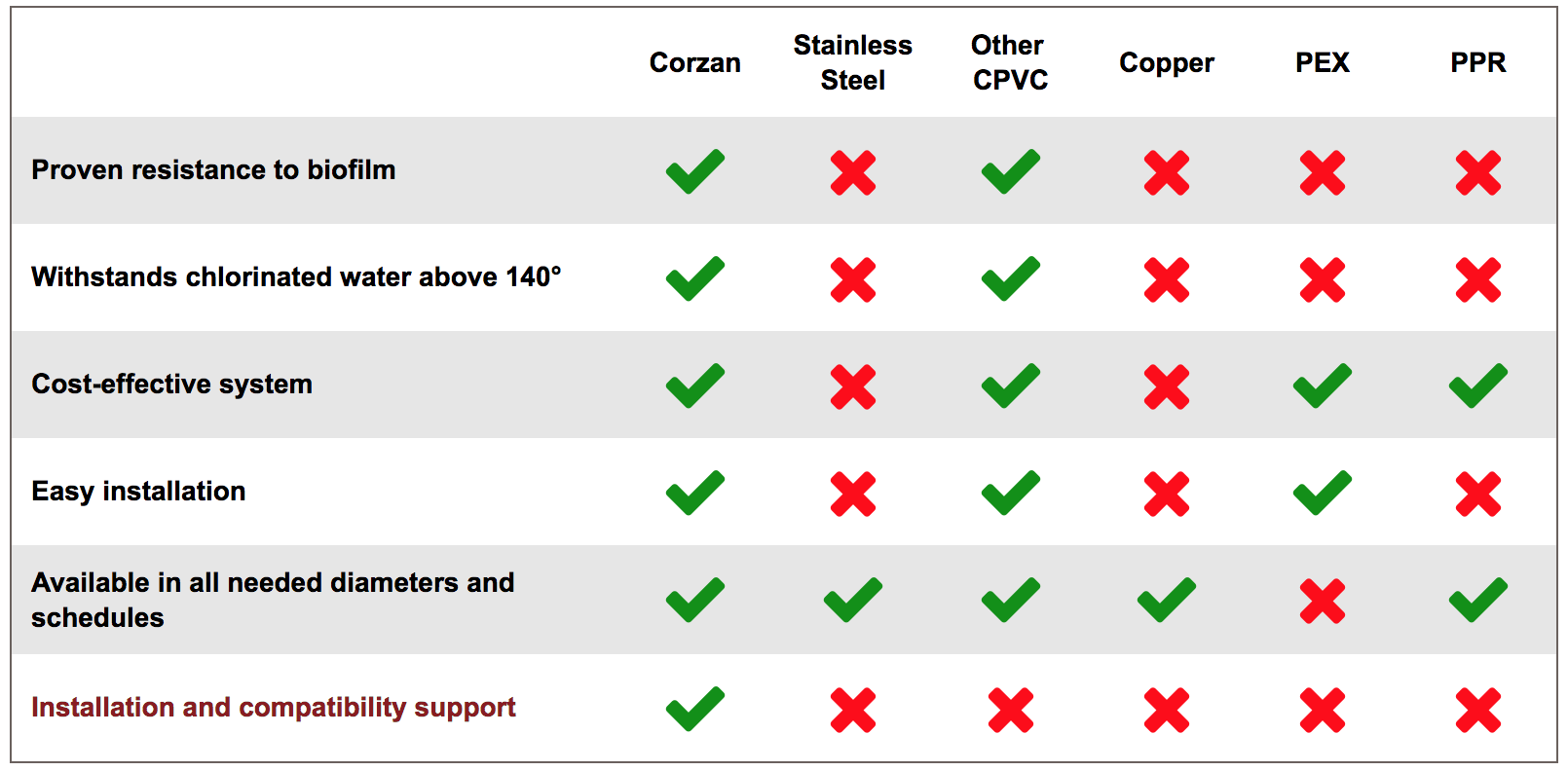 Copper is comparable when it comes to being highly durable and affordable against other metal piping but not when compared with Corzan pipe and fittings. With extended use, it will break down by corroding or scaling. Corzan pipe and fittings are immune to corrosion – meaning no callbacks due to failures. Corzan also offers a simplified installation, lower bottom-line costs and quiet, efficient operation when compared with copper. A corroding copper plumbing system can be the source of water contamination, while Corzan is the healthy piping system option.
When compared to stainless steel, Corzan outperforms in water quality and cost savings, plus is backed by nearly 60 years of installation history. Plastic piping systems like PEX and PPR do not have the resistance to chlorine degradation that Corzan does.
Hospitality Success Stories
Hilton Garden Hotel Chooses High Performance CPVC Products for a Complete Piping System
For the owner of the Hilton Garden Inn® franchise in Romulus, MI, every detail involved in the construction of the hotel had to provide premium quality for its future guests.
Corzan Pipe and Fittings Offers Cost Savings and Simple Installation for Birmingham Hotel
To accommodate the influx of conference attendees visiting the new Birmingham-Jefferson Convention Complex (BJCC), a major hotel chain started construction of a new, $50 million hotel. Built nine stories high with 290 rooms, city officials were deeply invested in its progress and success.