Merriam-Webster defines generic as "anything that is not sold or made under a particular brand name." But when it comes to materials, what's in a brand name, and how does a branded material differ from a generic? For instance, in some product categories, a generic version of a material may well be an acceptable choice to accomplish the function at hand.
As commercial/non-residential buildings that have been vacant for several months due to the COVID-19 pandemic return to use, care needs to be taken to prevent inadvertently exposing employees and the public to another respiratory risk factor: Legionella. Legionella is the bacterium that causes the serious and sometimes fatal respiratory infection Legionnaires' disease. Generally present in local water sources in benign amounts, Legionella microbes are capable of colonizing in warm non-circulating water systems and becoming disease carriers through widespread inhalation of contaminated mist or vapor by building occupants.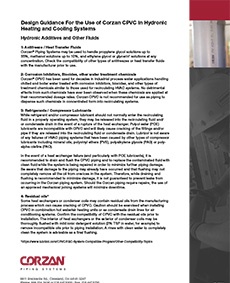 HVAC Design Guide
Delve deeper into CPVC's capabilities, benefits and performance in HVAC applications.
In multi-story construction, designers not only need to consider expansion and contraction for horizontally run pipe, but also the design and installation of the vertical piping. One school of thought when installing Corzan® CPVC for hot water riser systems is to use expansion loops similar to horizontal installations to account for thermal expansion.
Thermoplastic Corzan® CPVC pipe and fittings are designed to meet the temperature and pressure requirements of HVAC applications and withstand the internal stresses that result from conveying fluids over time at various operating temperatures, up to 180°F, in these complex projects.
The transformation of San Diego's North Embarcadero waterfront into the Portside Pier development was a joint project by the Port of San Diego and its restaurant partner Brigantine. Pacific Building Group (San Diego, California) was selected as the general contractor to oversee construction of the new concrete piles and a concrete pier with a two-story framed structure atop it, housing four dining establishments. For the hot and cold domestic water supply to these restaurants, the plumbing specification called for piping to be below the pier, and for this piping below the pier to be corrosion-resistant CPVC ranging from 3" down to ½".
Inquiring minds need to know: How did Corzan® CPVC transition from use in aggressive industrial pipe applications to becoming a trusted material for decades of reliable service in commercial plumbing and hydronic HVAC applications?
Interested in history, chemistry, biology and having a positive impact on society? Plumbing may be the career for you.
A question commonly asked about CPVC piping is what could cause a failure once it is in service. It is not necessary to have a materials science degree to gain an understanding of the factors involved. Essentially, certain conditions must be present for a failure to be set into motion. In this post we will look at what these conditions are and how they may interact with each other.
How do you define Corzan® Piping Systems? Is it a product? Is it an ingredient of a product? It's a good question, with an even better answer for specifiers, installers, distributors and our partners in the plumbing and HVAC industries.
Manufacturers develop instructions for installing or using their products for good reason. In the case of solvent welding of CPVC piping, a general disregard for the piping manufacturer's installation recommendations will – sooner or later – give the system a lack of resiliency that will manifest itself in a shortened service life.