Compatibility | Corzan® CPVC | Installation
The answer is yes. Yes, it can. Metallic enthusiasts realize that the majority of steel installations are painted or coated in order to slow down the corrosion process. Organizations such as AMPP (Association for Materials Protection and Performance) have produced cost estimates in the billions associated with corrosion. Many projects will want to paint for corrosion resistance and others may want to paint due to architectural reasons.
CPVC | Corrosion | Corzan® CPVC
With insulated metallic piping, the phenomenon known as corrosion under insulation (CUI) is a problem that is hard to quantify. The presence of moisture between insulation and pipe is hidden from view unless a facility adopts a fairly radical approach to detection. If moisture is present between the steel surface and insulation, then corrosion is practically a certainty. CUI can lead to prolonged downtime due to equipment failure, severe catastrophic leaks or explosions, and general safety and environmental concerns. The problem is common to insulated carbon steel, low alloy steel, galvanized, and stainless steel piping operating in all different temperature conditions.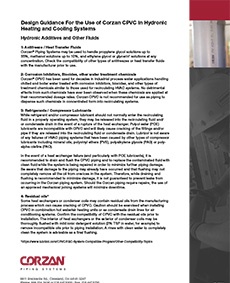 HVAC Design Guide
Delve deeper into CPVC's capabilities, benefits and performance in HVAC applications.
Corzan® CPVC | Health & Safety | Specification
Understanding the capabilities of engineered piping materials not typically covered in college curricula can be a daunting task for plumbing engineers. For those interested in considering alternative materials to copper, such as CPVC, that knowledge is best acquired by doing one's own research into performance properties and product testing and reaching out to manufacturers' specialists to further unlock insights.
A Heated Situation Air conditioning and Arizona go hand in hand, except when an owner neglects preventive maintenance for decades. The new owner of a 240-unit Phoenix apartment complex plagued by unreliable A/C due to persistent leaks in the HVAC system had a big problem on his hands.
When designing a data center, uptime is mission critical in choosing your design criteria. For many companies, the data center – that dedicated location for the operation and monitoring of information technology and computing assets – can be as valuable to operations as any piece of equipment. For some companies, the mission is so critical to maintaining business continuity that other highly expert companies operate the data center for them to ensure that stringent uptime requirements are met.
Capital Health Plan (CHP), a nonprofit managed care organization, is a nationally-recognized provider of comprehensive preventive, primary and specialty healthcare services for its members in the seven-county Greater Tallahassee, Florida, region. Plumbing and mechanical contractor Scott-Burnett, Inc. won the bid to provide Corzan® CPVC piping for the plumbing in CHP's new Metropolitan Health Center project, a three-story building of 72,000 square feet comprising physician offices, urgent care, imaging, lab services, wound care and a center for complex care.
Merriam-Webster defines generic as "anything that is not sold or made under a particular brand name." But when it comes to materials, what's in a brand name, and how does a branded material differ from a generic? For instance, in some product categories, a generic version of a material may well be an acceptable choice to accomplish the function at hand.
As commercial/non-residential buildings that have been vacant for several months due to the COVID-19 pandemic return to use, care needs to be taken to prevent inadvertently exposing employees and the public to another respiratory risk factor: Legionella. Legionella is the bacterium that causes the serious and sometimes fatal respiratory infection Legionnaires' disease. Generally present in local water sources in benign amounts, Legionella microbes are capable of colonizing in warm non-circulating water systems and becoming disease carriers through widespread inhalation of contaminated mist or vapor by building occupants.
In multi-story construction, designers not only need to consider expansion and contraction for horizontally run pipe, but also the design and installation of the vertical piping. One school of thought when installing Corzan® CPVC for hot water riser systems is to use expansion loops similar to horizontal installations to account for thermal expansion.
Thermoplastic Corzan® CPVC pipe and fittings are designed to meet the temperature and pressure requirements of HVAC applications and withstand the internal stresses that result from conveying fluids over time at various operating temperatures, up to 180°F, in these complex projects.