As commercial/non-residential buildings that have been vacant for several months due to the COVID-19 pandemic return to use, care needs to be taken to prevent inadvertently exposing employees and the public to another respiratory risk factor: Legionella. Legionella is the bacterium that causes the serious and sometimes fatal respiratory infection Legionnaires' disease. Generally present in local water sources in benign amounts, Legionella microbes are capable of colonizing in warm non-circulating water systems and becoming disease carriers through widespread inhalation of contaminated mist or vapor by building occupants.
Corzan® CPVC | HVAC | Health & Safety
Management of risk by building teams is an ever-growing area of professional concern. Complicated systems can have unseen impacts unless a holistic approach to the project is adopted at the start.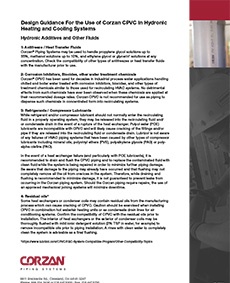 HVAC Design Guide
Delve deeper into CPVC's capabilities, benefits and performance in HVAC applications.
Many factors contribute to the design and specification of a piping system, from size to pressure to layout. It's just as critical to think about what's inside the pipes—the quality of the water and the disinfection treatments that will be used on that water over the life of the system. The additives used for primary and secondary disinfection can often have an impact on the integrity of the pipe.