Corzan® CPVC | Health & Safety | Specification
Understanding the capabilities of engineered piping materials not typically covered in college curricula can be a daunting task for plumbing engineers. For those interested in considering alternative materials to copper, such as CPVC, that knowledge is best acquired by doing one's own research into performance properties and product testing and reaching out to manufacturers' specialists to further unlock insights.
A Heated Situation Air conditioning and Arizona go hand in hand, except when an owner neglects preventive maintenance for decades. The new owner of a 240-unit Phoenix apartment complex plagued by unreliable A/C due to persistent leaks in the HVAC system had a big problem on his hands.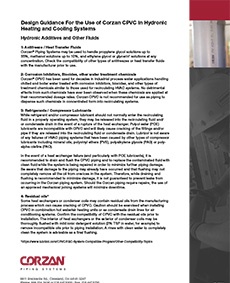 HVAC Design Guide
Delve deeper into CPVC's capabilities, benefits and performance in HVAC applications.
Capital Health Plan (CHP), a nonprofit managed care organization, is a nationally-recognized provider of comprehensive preventive, primary and specialty healthcare services for its members in the seven-county Greater Tallahassee, Florida, region. Plumbing and mechanical contractor Scott-Burnett, Inc. won the bid to provide Corzan® CPVC piping for the plumbing in CHP's new Metropolitan Health Center project, a three-story building of 72,000 square feet comprising physician offices, urgent care, imaging, lab services, wound care and a center for complex care.
Merriam-Webster defines generic as "anything that is not sold or made under a particular brand name." But when it comes to materials, what's in a brand name, and how does a branded material differ from a generic? For instance, in some product categories, a generic version of a material may well be an acceptable choice to accomplish the function at hand.
In multi-story construction, designers not only need to consider expansion and contraction for horizontally run pipe, but also the design and installation of the vertical piping. One school of thought when installing Corzan® CPVC for hot water riser systems is to use expansion loops similar to horizontal installations to account for thermal expansion.
The transformation of San Diego's North Embarcadero waterfront into the Portside Pier development was a joint project by the Port of San Diego and its restaurant partner Brigantine. Pacific Building Group (San Diego, California) was selected as the general contractor to oversee construction of the new concrete piles and a concrete pier with a two-story framed structure atop it, housing four dining establishments. For the hot and cold domestic water supply to these restaurants, the plumbing specification called for piping to be below the pier, and for this piping below the pier to be corrosion-resistant CPVC ranging from 3" down to ½".
Inquiring minds need to know: How did Corzan® CPVC transition from use in aggressive industrial pipe applications to becoming a trusted material for decades of reliable service in commercial plumbing and hydronic HVAC applications?
Interested in history, chemistry, biology and having a positive impact on society? Plumbing may be the career for you.
A question commonly asked about CPVC piping is what could cause a failure once it is in service. It is not necessary to have a materials science degree to gain an understanding of the factors involved. Essentially, certain conditions must be present for a failure to be set into motion. In this post we will look at what these conditions are and how they may interact with each other.
How do you define Corzan® Piping Systems? Is it a product? Is it an ingredient of a product? It's a good question, with an even better answer for specifiers, installers, distributors and our partners in the plumbing and HVAC industries.