Chillers … air handlers … boilers and air separators … pumps and heat exchangers … condensate drains in plenums. Every one of these HVAC applications is a candidate for a piping material known around the world for its smooth, corrosion-resistant interior surfaces.
Should the extra cost of expansion loops drive your decision making about which plastic pipe to use for your next commercial plumbing project? If you are thinking of using polypropylene piping instead of CPVC for that reason, read on.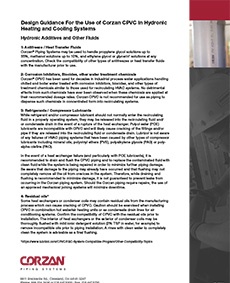 HVAC Design Guide
Delve deeper into CPVC's capabilities, benefits and performance in HVAC applications.
Contrary to what some may assume, Lubrizol Advanced Materials does not produce the final CPVC products used in plumbing and hydronic service. Instead we engineer and manufacture CPVC compound from PVC resin, as the chart below depicts.
Corzan® CPVC | Health & Safety
Management of risk by building teams is an ever-growing area of professional concern. Complicated systems can have unseen impacts unless a holistic approach to the project is adopted at the start.
One of PHCPPros' key plumbing trends for 2019 is tied to a strong growth area in the construction market – hotel rooms. That trend, prefabrication of building modules, is proving to be beneficial to the plumbing trades, where labor shortages have made jobsite-built projects more unpredictable and costly. And the latest data on rising construction costs, up 4.48% from the same time last year, points to worker shortages as a main factor in that increase.
CPVC pipe and fittings are the material of choice for commercial and institutional plumbing and HVAC applications around the world thanks to their reliability and efficiency. But not all CPVC piping systems are equal. Differences in a CPVC compound's manufacturing, material science and chemical processing mean that the resulting piping and fitting products may or may not be compatible with all ancillary construction products such as thread sealers, gasket and gasket lubricants, firestop products and cleaners.
In a field that's historically been led by metal, chlorinated polyvinyl chloride (CPVC) is gaining tremendous traction as the piping material of choice for commercial plumbing and HVAC applications. This is thanks to CPVC's:
The benefits of getting more for your money while keeping a piping project on track should be obvious to any plumbing and mechanical contractor. This is especially true as skilled labor shortages are plaguing the industry. Containing labor costs is more important than ever, so it should be as much a factor as any other in comparing piping materials. That's why having Corzan® Piping Systems in your construction arsenal is a win-win situation.
All piping materials expand and contract with temperature changes. When those changes are significant, and a run of pipe is constrained at both ends, the compressive stress can damage the pipe. This may lead to frequent repairs, downtime and shortened service life.
The simplicity of working with Corzan® CPVC is renowned by installers of plumbing and HVAC piping systems. Once trained in proper techniques, they come to find that most projects can be completed with only a few handheld tools. So when the need arises to integrate CPVC pipe into existing systems of copper, stainless steel, carbon steel or galvanized steel, the same installation basics make the job cost-effective and straightforward.