Compatibility | Corzan® CPVC | Installation
The answer is yes. Yes, it can. Metallic enthusiasts realize that the majority of steel installations are painted or coated in order to slow down the corrosion process. Organizations such as AMPP (Association for Materials Protection and Performance) have produced cost estimates in the billions associated with corrosion. Many projects will want to paint for corrosion resistance and others may want to paint due to architectural reasons.
CPVC pipe and fittings are the material of choice for commercial and institutional plumbing and HVAC applications around the world thanks to their reliability and efficiency. But not all CPVC piping systems are equal. Differences in a CPVC compound's manufacturing, material science and chemical processing mean that the resulting piping and fitting products may or may not be compatible with all ancillary construction products such as thread sealers, gasket and gasket lubricants, firestop products and cleaners.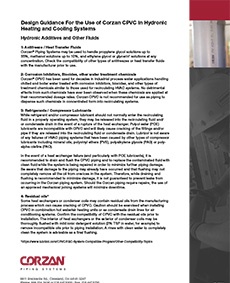 HVAC Design Guide
Delve deeper into CPVC's capabilities, benefits and performance in HVAC applications.
In all areas of a building project, specifiers, engineers, and contractors need to pay attention to compatibility — how will one material react to another. For example, new types of treated wood containing copper will cause some types of metal fasteners to corrode. Some siding materials can't be installed against concrete because of moisture absorption. And the list continues.
Chlorination is frequently employed to control the growth of harmful bacteria in cooling towers and recirculating systems. But many may not realize that this type of disinfection, relied upon to maintain healthy HVAC systems, can accelerate degradation of some types of pipes.
Corzan CPVC offers high-quality, reliable functionality backed by 60 years of science. But as with nearly any material, it's important to keep in mind how its chemical makeup reacts and responds to other materials that touch it. Here's what you need to know about chemical compatibility to ensure the pipes perform as intended.
In the summer of 2016, the Jackson family reached its wit's end: Their home in Battle Ground, Wash., a little over 10 years old, experienced a third pipe leak in just a couple of years.