Thermoplastic Corzan® CPVC pipe and fittings are designed to meet the temperature and pressure requirements of HVAC applications and withstand the internal stresses that result from conveying fluids over time at various operating temperatures, up to 180°F, in these complex projects.
Inquiring minds need to know: How did Corzan® CPVC transition from use in aggressive industrial pipe applications to becoming a trusted material for decades of reliable service in commercial plumbing and hydronic HVAC applications?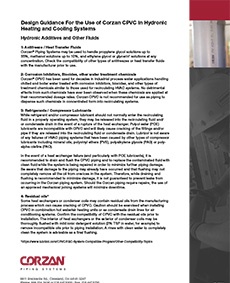 HVAC Design Guide
Delve deeper into CPVC's capabilities, benefits and performance in HVAC applications.
Interested in history, chemistry, biology and having a positive impact on society? Plumbing may be the career for you.
A question commonly asked about CPVC piping is what could cause a failure once it is in service. It is not necessary to have a materials science degree to gain an understanding of the factors involved. Essentially, certain conditions must be present for a failure to be set into motion. In this post we will look at what these conditions are and how they may interact with each other.
How do you define Corzan® Piping Systems? Is it a product? Is it an ingredient of a product? It's a good question, with an even better answer for specifiers, installers, distributors and our partners in the plumbing and HVAC industries.
For 45 years, federal law has required potable water suppliers to protect their customers from waterborne pathogens while minimizing health risks from disinfection and the byproducts of disinfection. The Safe Drinking Water Act of 1974 authorizes the U.S. Environmental Protection Agency to establish minimum standards to protect tap water, and requires all owners or operators of public water systems to comply with these health-related standards.
NSF/ANSI/CAN Standard 61: Drinking Water Systems Components – Health Effects establishes minimum requirements for the control of adverse human health effects in materials, components, products and systems that have direct contact with drinking water (from source to tap) or drinking water treatment chemicals.
Merriam-Webster defines a plastic as "any of numerous organic synthetic or processed materials that are mostly thermoplastic or thermosetting polymers of high molecular weight and that can be made into objects, films, or filaments."
Contrary to what some may assume, Lubrizol Advanced Materials does not produce the final CPVC products used in plumbing and hydronic service. Instead we engineer and manufacture CPVC compound from PVC resin, as the chart below depicts.
Corzan® CPVC | HVAC | Health & Safety
Management of risk by building teams is an ever-growing area of professional concern. Complicated systems can have unseen impacts unless a holistic approach to the project is adopted at the start.