Corzan® CPVC | Health & Safety | Specification
Understanding the capabilities of engineered piping materials not typically covered in college curricula can be a daunting task for plumbing engineers. For those interested in considering alternative materials to copper, such as CPVC, that knowledge is best acquired by doing one's own research into performance properties and product testing and reaching out to manufacturers' specialists to further unlock insights.
Corzan® CPVC | HVAC | Health & Safety
Management of risk by building teams is an ever-growing area of professional concern. Complicated systems can have unseen impacts unless a holistic approach to the project is adopted at the start.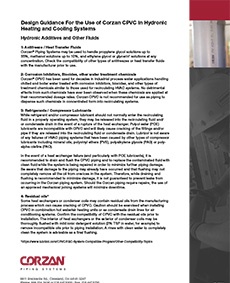 HVAC Design Guide
Delve deeper into CPVC's capabilities, benefits and performance in HVAC applications.
Many factors contribute to the design and specification of a piping system, from size to pressure to layout. It's just as critical to think about what's inside the pipes—the quality of the water and the disinfection treatments that will be used on that water over the life of the system. The additives used for primary and secondary disinfection can often have an impact on the integrity of the pipe.
Health & Safety | Sustainability
For 30 years, the environmental movement and the green building emphasis that grew out of it have focused on the role of manufacturing in emitting waste byproducts to the air, water and land. As interest in green buildings has grown, so has the interest in the potential for environmental impacts across every phase of a building product or system's lifecycle.
As legionella outbreaks continue to rise throughout the country, plumbers, builders, and facility managers are looking for solutions to manage existing buildings.
Fire and life safety is a vital consideration for many aspects of residential and commercial design and construction. But often left out of the equation is the piping system.
Copper piping is a go-to material for many plumbers and builders. But before specifying, it's important to consider the health and safety aspects of each piping system; many pros don't realize the risk of corrosion posed by copper and other metallics—factors that can lead to failures and even health concerns down the road.
Each month, new headlines blare about legionella outbreaks leading to illnesses and, in some cases, deaths.
A recent memo from the U.S. Dept. of Health & Human Services' Centers for Medicare & Medicaid Services directed state agency directors to reduce the risk of legionella in healthcare facility water systems.
Water-saving strategies such as lower-flow fixtures have become a vital tool in the conservation movement and in green buildings. But like many advances, even positive changes such as water-use reduction can have unintended consequences. There is rising evidence that lower flows may contribute to the formation of biofilm that provides opportunity for bacteria growth.