When designing a data center, uptime is mission critical in choosing your design criteria. For many companies, the data center – that dedicated location for the operation and monitoring of information technology and computing assets – can be as valuable to operations as any piece of equipment. For some companies, the mission is so critical to maintaining business continuity that other highly expert companies operate the data center for them to ensure that stringent uptime requirements are met.
Thermoplastic Corzan® CPVC pipe and fittings are designed to meet the temperature and pressure requirements of HVAC applications and withstand the internal stresses that result from conveying fluids over time at various operating temperatures, up to 180°F, in these complex projects.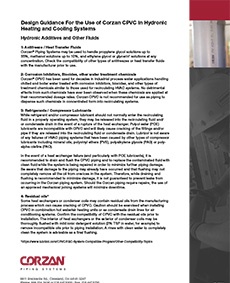 HVAC Design Guide
Delve deeper into CPVC's capabilities, benefits and performance in HVAC applications.
Chillers … air handlers … boilers and air separators … pumps and heat exchangers … condensate drains in plenums. Every one of these HVAC applications is a candidate for a piping material known around the world for its smooth, corrosion-resistant interior surfaces.
Corzan® CPVC | HVAC | Health & Safety
Management of risk by building teams is an ever-growing area of professional concern. Complicated systems can have unseen impacts unless a holistic approach to the project is adopted at the start.
The simplicity of working with Corzan® CPVC is renowned by installers of plumbing and HVAC piping systems. Once trained in proper techniques, they come to find that most projects can be completed with only a few handheld tools. So when the need arises to integrate CPVC pipe into existing systems of copper, stainless steel, carbon steel or galvanized steel, the same installation basics make the job cost-effective and straightforward.
In the building community, one of the greatest commodities a specifier possesses is confidence that materials will perform as expected. For HVAC applications, a material must be rated for the operating temperature and pressure of the hydronic system to ensure that it can withstand the internal stresses placed on it by the fluid being conveyed over time and at various temperatures. For thermoplastic CPVC, the International Mechanical Code and Uniform Mechanical Code dictate conformance requirements.
When it comes to hydronic heating and cooling applications, Corzan CPVC offers an ideal combination of durability, reliability and affordability. Corzan CPVC pipe, valves and fittings are designed to meet the temperature, pressure and size requirements of commercial heating and cooling systems, and they have a proven track record in commercial hot water heating and cooling systems in hospitals, retail and multifamily projects, to name a few.