Compatibility | Corzan® CPVC | Installation
The answer is yes. Yes, it can. Metallic enthusiasts realize that the majority of steel installations are painted or coated in order to slow down the corrosion process. Organizations such as AMPP (Association for Materials Protection and Performance) have produced cost estimates in the billions associated with corrosion. Many projects will want to paint for corrosion resistance and others may want to paint due to architectural reasons.
Manufacturers develop instructions for installing or using their products for good reason. In the case of solvent welding of CPVC piping, a general disregard for the piping manufacturer's installation recommendations will – sooner or later – give the system a lack of resiliency that will manifest itself in a shortened service life.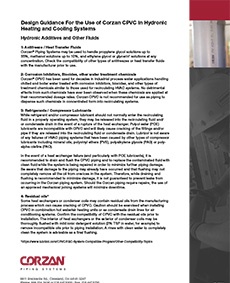 HVAC Design Guide
Delve deeper into CPVC's capabilities, benefits and performance in HVAC applications.
Chillers … air handlers … boilers and air separators … pumps and heat exchangers … condensate drains in plenums. Every one of these HVAC applications is a candidate for a piping material known around the world for its smooth, corrosion-resistant interior surfaces.
Should the extra cost of expansion loops drive your decision making about which plastic pipe to use for your next commercial plumbing project? If you are thinking of using polypropylene piping instead of CPVC for that reason, read on.
Long-term reliability and performance in piping systems are paramount considerations in materials selection, which is why engineers, building owners and facility managers have relied on Corzan CPVC for decades. Also in the mix are the contractors who appreciate this fact: Corzan is so versatile it can be installed using either chemical (solvent welding) or mechanical joining methods. Lubrizol engineered the CPVC compound nearly 60 years ago, and we have not stopped honing and evolving its capabilities.
The lower thermal conductivity of CPVC and other plastic piping materials compared to steel and copper often leads specifiers to wonder whether the material alone is sufficiently insulating for pipe in commercial plumbing and hydronic heating applications. Corzan CPVC's thermal conductivity is 1/300th that of steel, so this is a reasonable question, especially given pipe insulation's materials and labor cost. The reality is that it depends on the application.
Solvent welding is an effective, time-tested installation method for CPVC piping systems, using chemistry to form a reliable, long-lasting bond. But like any building material, it's important to follow instructions and best practices to ensure your CPVC pipes are fitted properly and will perform as designed. This includes something as simple as the application dauber you choose.
Solvent welding is a straightforward, affordable installation method that forms a chemical bond. In fact, a properly installed Corzan fitting is the strongest part of the system.
No torches. No welding. Just a reliable, long-lasting connection you can trust. Corzan pipes and fittings are joined with a method called "solvent welding," which uses chemistry and geometry, rather than heat, to produce a permanent molecular bond.
Sizing a water piping system for a commercial space requires consideration of a number of factors, including water pressure, friction losses, and number of fixtures. In addition, the pipe material itself plays a role.