Health & Safety | Sustainability
For 30 years, the environmental movement and the green building emphasis that grew out of it have focused on the role of manufacturing in emitting waste byproducts to the air, water and land. As interest in green buildings has grown, so has the interest in the potential for environmental impacts across every phase of a building product or system's lifecycle.
When designing a sustainable building, topics such as energy efficiency and indoor air quality are often top of mind. But just as important is the consideration of resource efficiency and the sustainability of the components that make up the building—and the components that make up those components.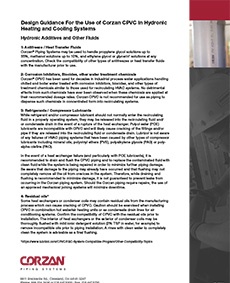 HVAC Design Guide
Delve deeper into CPVC's capabilities, benefits and performance in HVAC applications.
Though tucked behind the walls, piping system choices can play an important role in green buildings, from energy efficiency to water quality to resource conservation. For projects seeking LEED v4 BD+C certification, FlowGuard Gold and Corzan piping systems can contribute toward credits under several headings.