Legionella is a bacteria identified in 1976 that can cause legionellosis, leading to Legionnaires' Disease, a serious type of pneumonia, or a less serious infection called Pontiac Fever. Legionnaires' Disease is contracted through inhalation of a mist or vapor contaminated with the bacteria – not from person to person contact. Anywhere between 8,000 and 18,000 cases are reported each year in the United States. Biofilms are a slimy glue-like substance that can harbor harmful bacteria like legionella and e-coli. It forms on piping materials when biomass adheres to surfaces in wet environments. Biofilm then provides protection to bacteria from thermal and oxidative disinfection methods. Materials used in piping materials impact biofilm formation.
Water-saving strategies such as low-flow fixtures have become a vital tool in the conservation movement. But like many advances, even positive changes such as water-use reduction can have unintended consequences. Longer stagnation times can cause chlorine residuals to dissipate; without chlorine residuals, biofilm growth can occur, serving as a safe harbor for bacteria such as legionella, pseudomonas, E.coli, and other coliforms. Energy conservation strategies like low operation temperatures also contribute to accelerated growth. Also, longer residing and excess dormant water before system start-up also allows the bacteria to grow.
This table shows the temperature of the water in system and the corresponding conditions within in the system regarding legionellae.
Legionella Conditions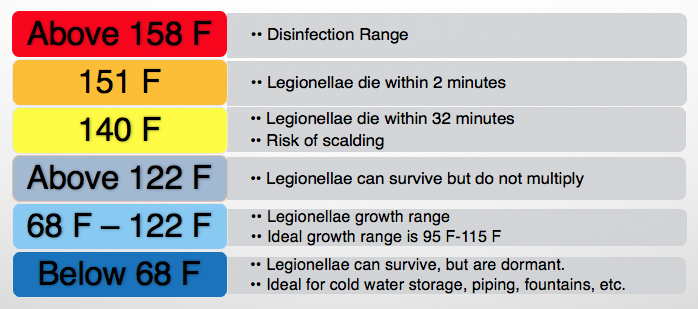 Research Results of Piping Materials: Biofilm Growth and Internal Surface Comparisons
This chart shows that CPVC has the lowest level of potential biofilm growth.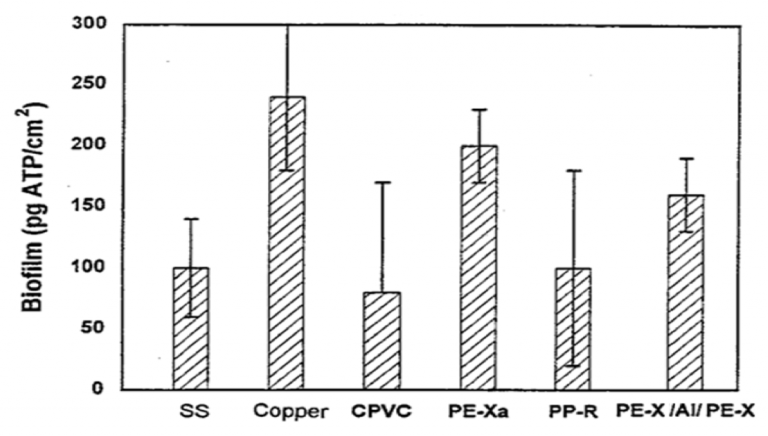 *Source: Biofilm Formation Potential of Pipe Materials in internal installations; H.R. Veenendaal / D. van de Kooiy ; KIWA;1999
ASHRAE Guideline 12-2000
Corzan® piping systems offer the best solution to avoiding the health risks of biofilm due to both its resistance to biofilm growth and its tolerance to disinfection. The pipes can withstand the high temperature chlorinated water required for legionella remediation, unlike PEX, PP-R and other plastics that require extra caution before being exposed to these conditions and copper, which is susceptible to rapid corrosion caused by the effects of shock chlorination. Corzan plumbing systems can both resist biofilm growth and safely withstand ANSI/ASHRAE 12-2000-compliant decontamination procedures.
ASHRAE Guideline 12-2000 establishes minimum legionellosis risk management requirements for building water systems. Guideline 12-2000 is essential for anyone involved in design, construction, installation, commissioning, operation, maintenance, and service of centralized building water systems and components.
Piping Material Comparisons – CPVC
Corzan is resistant to biofilm and legionella growth due to the smooth, consistent and rigid surface of the piping material throughout its life cycle. Other materials have, or develop, a more uneven surface, creating a more conducive environment for biofilm growth.

Piping Material Comparisons – Stainless Steel

Piping Material Comparisons – Galvanized Iron

Piping Material Comparisons – New Copper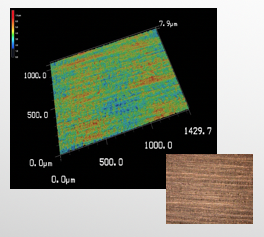 Piping Material Comparisons – Aged Copper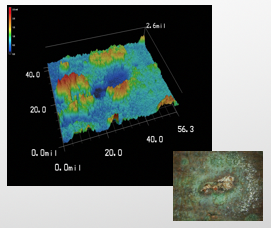 Legionnaire's Disease
The problem with Legionnaire's Disease growth is significant enough that the Center for Disease Control states, "9 in 10 CDC investigations show almost all outbreaks were caused by problems preventable with more effective water management." There is an online toolkit available as an additional resource: Developing a Water Management Program to Reduce Legionella Growth and Spread in Buildings.
There have been many reports of Legionnaire"s Disease across the U.S. Learn more about each report by choosing a location on the map below.