The Sustainable Choice
In commercial design and construction, sustainability has become an increasingly important priority—or even a requirement. And just because piping systems are hidden behind the walls and under the floors doesn't lessen their important role in achieving your green goals.
Corzan's® commitment to providing long-lasting, resource-efficient materials spans from our behind-the-scenes efforts to develop the most efficient practices to end products that maximize the life cycle and protect the quality of water.
Research & Development
Corzan is committed to identifying new ways to conserve resources and reduce energy usage. Through independent life cycle research, we gain an understanding of how our products affect the environment, starting with the raw materials and continuing through manufacturing, product use and disposal.
Energy Efficiency
The manufacturing of our CPVC piping materials requires less energy and produces fewer greenhouse emissions than other piping materials, as reported in the "Life Cycle Inventory (LCI) of the Production of Plastic and Metal Pipes for Use in Three Piping Applications". Also, since our plastic pipe and fittings do not corrode, they are likely to last longer, reducing the need for replacement materials.
Recycling
CPVC can be recycled into drainage piping or window profiles. It can also be ground into pellets and granules for use in many products, such as floor fillings/coatings, speed bumps and car mats.
Water Quality
Along with reliability you can trust, Corzan pipe and fittings provide the peace of mind of long-term safety and health for building occupants. Corzan Piping Systems are consistently proven to resist bacteria and biofilm better than other materials used for potable water piping. And Crozan Piping Systems can withstand the super-heated and highly chlorinated water required for biofilm remediation. Click here to learn more.
Related Articles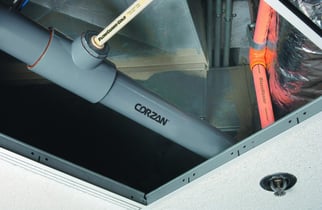 Earning LEED Credits With Corzan Piping Systems
Though tucked behind the walls, piping system choices can play an important role in green buildings, from energy efficiency to water quality to resource conservation.